Prime Pak Products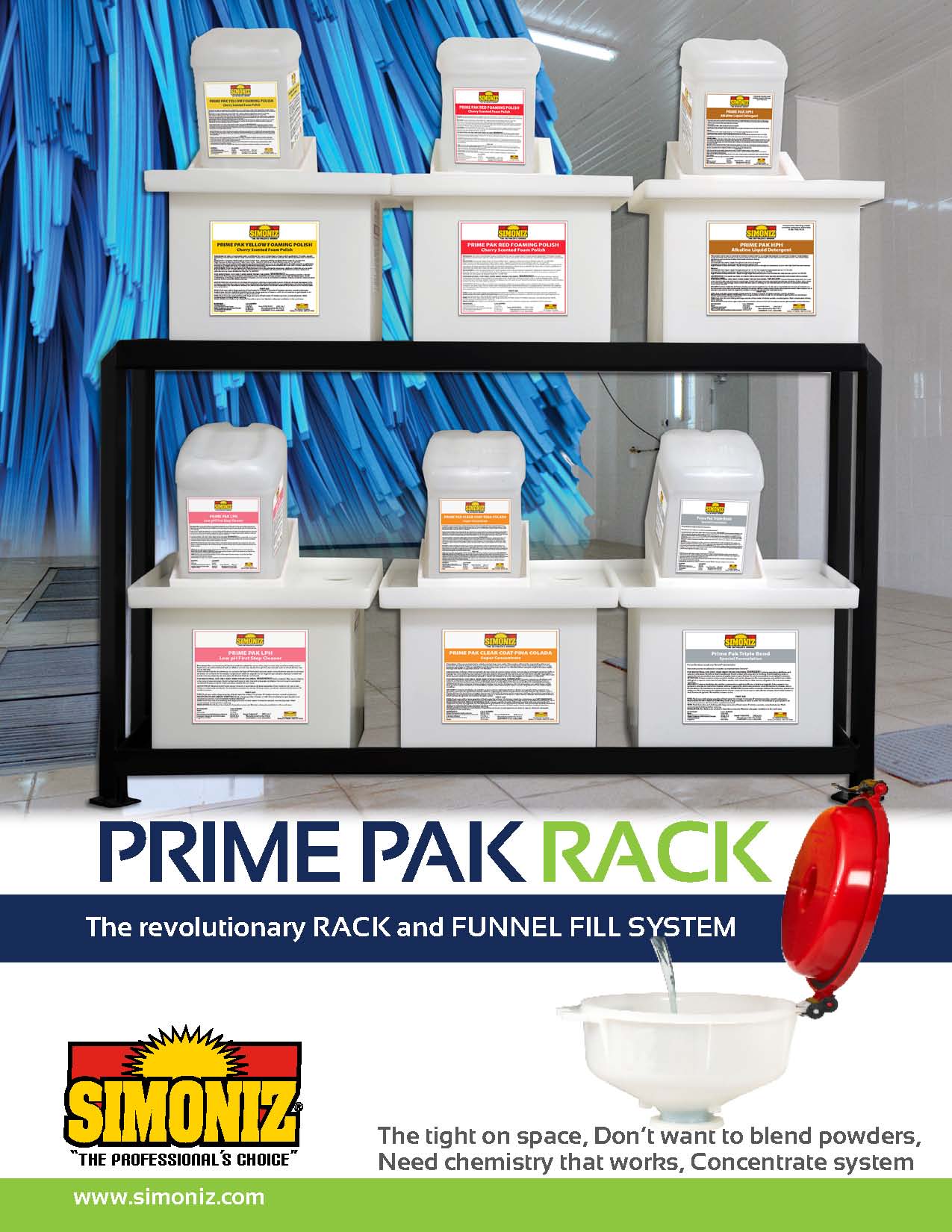 You're tight on space and don't have time to blend powders – but you need chemistry that works. Prime Pak is a revolutionary rack and funnel fill system that uses highly effective concentrated chemicals. Prime Pak is ideal for in-bays, convenience store car washes, and small equipment rooms.
---
How It Works
---
Prime Pak LPH
First step presoak for in-bay automatics. A blend of mild but effective organic acids, water soluble solvents and both cationic and non-ionic surfactants.
Prime Pak HPH
Amazing second step presoak that works synergistically with LPH. A unique, high pH blend of alkaline builders, chelating agents, water softeners, solvents and wetting agents.
Prime Pak Clear Coat Sealer
A highly concentrated and very economical Pina Colada scented clear coat sealant. CLEAR COAT SEALER quickly de-foams and disperses water for a dry and spot-free finish.
Prime Pak Drying Agent
A highly concentrated drying agent that will provide superior beading and water break. May be applied to vehicle under low or high pressure.
Prime Pak Foam Brite
High foaming long lasting "show foam" with excellent cleaning and lubricity for IBA friction systems.
Prime Pak Triple Foam Red
Prime Pak Triple Foam Blue
Prime Pak Tripe Foam Green
Prime Pak Tripe Foam Yellow
These amazing foam polishes are highly visual and will fill your bays with a strong cherry-berry scent. They possess quick flash foam for visual appeal but rinse freely and bead up quickly when followed with CLEAR COAT SEALER.
Prime Pak Presoak and Wheel Cleaner
Terrific alkaline presoak that can be used in a one-step wash process or as a second step presoak. Excellent in both hard and soft water, PRIME PACK PRESOAK AND WHEEL CLEANER uniquely blends high alkaline builders, wetting agents and surfactants in a highly synergistic blend.