VisionBlade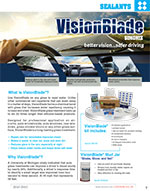 VisionBlade can be used on any glass to repel water. Unlike other commercial rain repellents that can wash away in a matter of days, VisionBlade forms a chemical bond with glass that increases water repellency, causing it to bead and shed. VisionBlade glass treatment lasts up to 6 times longer than silicone-based products.
Download Brochure View All SDS
VisionBlade:
Repels rain for remarkably improved vision
Makes it easier to clear ice, snow, and even dirt
Reduces glare in the rain, especially at night
Helps reduce water marks and keeps down salt water
A University of Michigan study indicated that auto glass treatments can improve a driver's visual acuity by nearly 35%. Additionally, a driver's response time to identify a small target was improved from 4 seconds to 3 seconds. At 45 mph, that represents 58 feet.