Waterless Hand Cleaners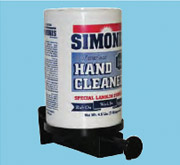 ---
RT ORIGINAL WATERLESS
Heavy-Duty Paste Cleaner
Quickly removes a wide range of soils, ink, etc. with or without water.
Emollient-base with refined lanolin and cosmetic grade ingredients.
Leaves hands clean and soft with a fresh after-scent.
Contains no kerosene or harsh solvents.
Packaging:
4 x 4.5 lb #CS0100
RT ORIGINAL WATERLESS WITH PUMICE
Heavy-Duty Paste Cleaner
Contains fine scrubbing granules and lanolin.
Removes grease, oil, paint, stain, ink, asphalt, etc.
Packaging:
4 x 4.5 lb #CS0150
---
Please note: Acrobat Reader 4.0 or higher is required to view a document in PDF format.



DISCLAIMER: EPA/DfE recognition does not constitute endorsement of these products. The Design for the Environment logo signifies that the formulas for these products, as Simoniz USA has represented them to the EPA, contains ingredients with more positive health and environmental characteristics than conventional cleaners. EPA/DfE relies solely on Simoniz USA, its integrity and good faith, for information on the composition, ingredients, and attributes of these products. EPA/DfE has not independently identified, i.e., via chemical analysis, the ingredients in the product formulas, nor evaluated any of Simoniz USA's non-ingredient claims. EPA/DfE expresses its judgment and professional opinion only as to the environmental and human health characteristics of the products, based on currently available information and scientific understanding.