Compatibility & Installation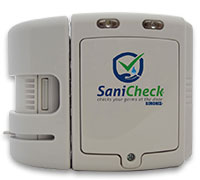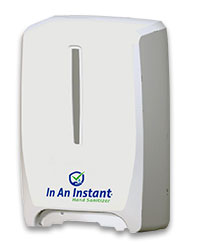 We've got you covered! The SaniCheck® Hand Hygiene monitors are compatible with Simoniz In an Instant Touch Free (battery powered) hand sanitizer dispensers, and they've been installed in hospital rooms with regular doors, rooms with curtained openings, and rooms with glass sliding doors.
Wall-Mounted with Rotating Sensor
The SaniCheck® device combined with In An Instant Touch Free® automated dispenser mounts directly on the wall outside a patient's room using 4 mounting screws. The sensor on the unit rotates 180 degrees, and can be repositioned to either the left or right side of the unit, making set up and alignment a simple task.
Battery Powered, Long Life
SaniCheck® units have been tested to last for over 5 years from a single set of ordinary D cell batteries.
Highly Configurable
During installation, the SaniCheck® user interface (pictured) is used to configure parameters such as room size and delay times, and to activate or disable the visual and/or audible alerts.
No Network Required
Compliance data is stored in each SaniCheck® unit and can be downloaded directly to a PC or mobile device using the short range NFC wireless protocol, or via a data port located on the SaniCheck® unit.
Product Specifications
Height: 5 ⅛"
Width: 6"
Depth: 2 ⅝"
Weight without batteries: 12.5 oz
Weight with batteries: 22.5 oz
Battery requirements: Two D-cell batteries
Installation mount: Four screws