Merchandising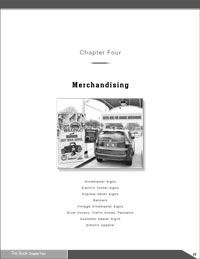 Create a more professional look for your car wash both indoors and out. The most recognized name in the car care industry, Simoniz-branded merchandise captures customer attention and creates instant trust.
Download Brochure View All SDS
---
Windmaster Signs
Advertise your Simoniz car wash products and services with eye-catching signs that can withstand even gale-force winds.
Download Windmaster Sign Catalog
---
Electric Tunnel Signs
Bright backlit signs create a fun experience while letting your customer know they're receiving the treatment they paid for.
Download Electric Tunnel Sign Catalog
---
Express Detail Signs
An attractive way to showcase your express detailing services, these wind-resistant signs will make your customers long for that new-car clean.
Download Express Detail Sign Catalog
---
Banners
Turn heads and capture customer trust with these supersized vinyl banners advertising your Simoniz car wash products and services.
---
Vintage Windmaster Signs
Create nostalgia indoors and out with these vintage wind-resistant signs highlighting favorite Simoniz ads from the past century.
Download Vintage Windmaster Sign Catalog
---
Drum Covers, Traffic Cones, Pennants
Upgrade your car wash with Simoniz-branded soap drum covers, safety traffic cones, and eye-catching pennants.
Download Drum Cover, Traffic Cone, and Pennant Catalog
---
Custom Dealer Signs
Customized laminated price menus prominently feature your logo while showcasing your car wash's products and services.
Download Custom Dealer Sign Catalog
---
Simoniz Apparel
Keep your staff looking great and feeling comfortable with a full line of Simoniz-branded apparel, including shirts, sweatshirts, caps, and aprons.