Specialized Surface Enhancement Products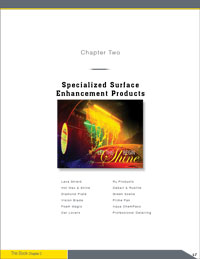 Simoniz develops products for every application offered in today's car washing industry. These are our top-selling products for your car wash needs.
Download Brochure View All SDS
---
Lava Shield
A 4-step paint sealant process that delivers an unbeatable customer experience and visibly enhances the car's surface.
---
Hot Wax & Shine
A unique hot wax application that delivers unsurpassed shine to the entire vehicle with just the push of a button.
DOWNLOAD HOT WAX & SHINE CATALOG
---
Diamond Plate
A durable second coating that improves gloss and protects the vehicle's finish for two years, guaranteed.
DOWNLOAD DIAMOND PLATE CATALOG
---
Vision Blade
A water-repelling glass treatment that forms a chemical bond with glass and lasts up to 6 times longer than silicone-based products.
---
Foam Magic
A detergent that delivers rich foam levels, a pleasant fruit scent, and vibrant colors for visual excitement.
---
Car Lovers
Two highly effective pre-soaks followed by sealer and polish make the Car Lovers products the best 1-2 punch in the industry!
---
Rx Products
For use in every type of car wash, Simoniz Rx Products are your prescription to a totally balanced reclaim system.
---
DeSalt & Rustite
DeSalt neutralizes winter road de-icing treatments on all hard vehicle surfaces, while Rustite provides rust inhibition for added protection.
DOWNLOAD DESALT & RUSTITE CATALOG
---
Green Scene
A full line of environmentally friendly, EPA-approved car wash products that use less water without sacrificing great results.
---
Prime Pak
A revolutionary rack and funnel fill system that uses highly effective concentrated chemicals, saving you time and space.
---
Aqua ChemPacs
This easy-to-use rack system delivers our popular cleaning products in portion-controlled packaging for reduced errors and waste.
DOWNLOAD AQUA CHEMPACS CATALOG
---
Professional Detailing
Learn how to open and operate a successful detail and tint center from the world-class trainers at Simoniz. Our state-of-the-art training center provides everything you need.
DOWNLOAD PROFESSIONAL DETAILING CATALOG
---
Odor Out
A fast, safe, and effective solution for eradicating odors and odor-causing bacteria in vehicles.
---
Sani-Tab
Non-toxic, self-activated tablets that quickly, easily, and completely eradicating foul odor-causing bacteria and bio-slime in car wash reclaim pits.