SaniCheck: Hand Hygiene Monitoring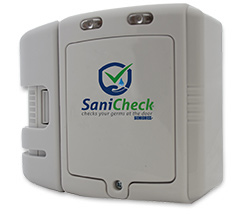 SaniCheck® is a hand sanitizing monitor that utilizes visual and auditory signals to ensure proper and consistent hand sanitization.
SaniCheck® is easy to deploy, inexpensive compared to the competition and data can be collected from the device to monitor sanitizing dispenser usage.
Why SaniCheck®?
The Most Cost-Effective Solution on the Market
Competing products can sell for $1500 to well over $3000 per room. Some systems also require expensive and obtrusive network connections and continued support fees. SaniCheck®'s low cost means your complete installation can be offset by avoiding just a single Hospital Acquired Infection!
Simple, Immediate Feedback
SaniCheck® provides immediate feedback by gently reminding staff and visitors to follow established hand hygiene protocols as they enter or leave a patient's room. Sanitize in, sanitize out. Proper hand sanitizing creates a green LED and audible confirmation. Failure to sanitize results in a flashing red LED and audible warning which reminds you to return to the In An Instant Touch Free® hand sanitizer dispenser thereby reducing the risk of infection.
Accurate Performance Data
The SaniCheck® system captures compliance data essential to increasing hand sanitization compliance rates. Every hand sanitizing opportunity is recorded, on the way in and the way out. It never records individual personal data, resulting in high acceptance by staff and visitors. It collects data on overall group utilization therefore protecting each individual's privacy.
Easy Installation
The battery powered SaniCheck® unit connects directly to the In An Instant Touch Free® hand sanitizer dispensers. SaniCheck® is easily installed, requiring no special badges, networks or ongoing operational support.
In An Instant Hand Sanitizer
Foaming hand sanitizer that sanitizes without alcohol while moisturizing with hand soothing emollients. Rapid kill rate of 99.999999% against most common bacteria.