Our Services for New/Existing Customers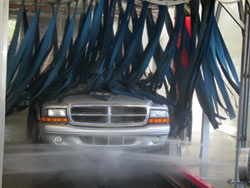 Whether you need a single part or a complete ground-up car wash business proposal, Simoniz is here to serve you. We're ready with permanent warehouse locations, satellite offices, and a fleet of "mobile warehouse" trucks servicing New York, Pennsylvania, West Virginia, and Ohio. And if you're looking for more, Simoniz is your partner, providing a full range of equipment, startup assistance, and ongoing support.
Helping Your Car Wash Business Succeed
As experienced vehicle washing professionals, Washing Equipment Technologies (now owned by Simoniz) was founded in 1995 with a single goal: to support entrepreneurs and investors in the profitable enterprise of starting and running car wash businesses. Our staff is highly experienced in sales, consulting, manufacturing, installation, servicing, and supplying the vehicle-washing industry.
How Simoniz Can Support Your Car Wash Business
Before the purchase of equipment, we can provide:
Demographic analysis and business projections for your site
Business and marketing plan assistance to get you started
Site design and planning assistance for you and your site developer
Assessment of equipment needs for your location
Startup consulting on financing options
After the purchase of equipment, we can provide:
Service and maintenance agreements
Supplies (soaps, waxes, polishes, etc.) with monthly checkups
Phone support (weekdays)
On-call service (weekdays & weekends)
A full line of parts
Working with our winning team, you can determine the best location for you, procure the best possible equipment, and establish a powerful vehicle-washing business that supports itself with high customer draw and profits you through low, manageable overhead.
With the expertise and years of experience provided by Washing Equipment Technologies' team, you can be assured of the highest quality service, ongoing support and peace of mind that lets you focus on business growth rather than mechanical troubleshooting.
With the tightening margins available through gas pumps and convenience-store retail sales, attracting car wash customers may be just the added profitability your business needs to break away from the pack.