Air Deodorizers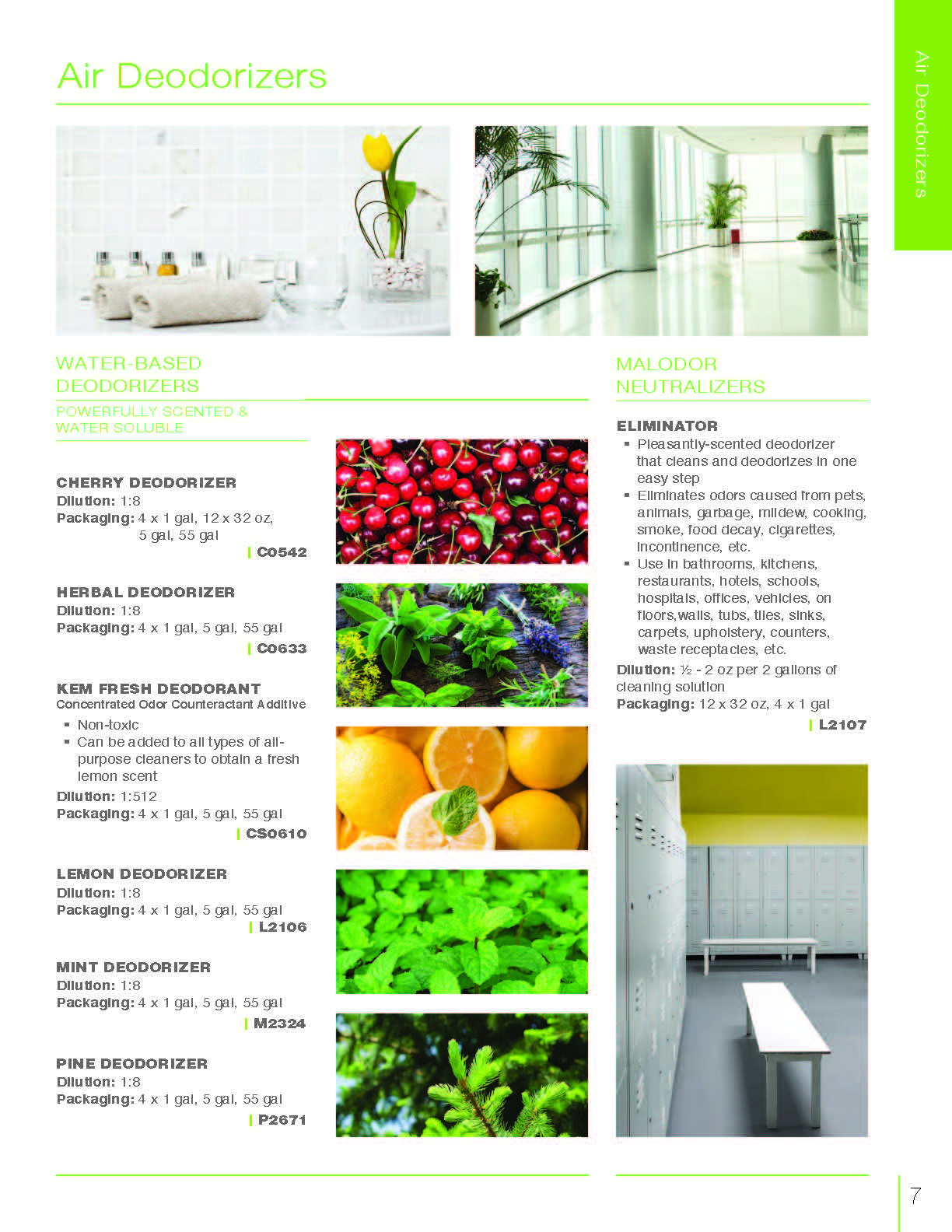 Product Listing
View All SDS View All Data Sheets
Water-Based Deodorizers
CHERRY DEODORIZER
Dilution: 1:8
Packaging:
12x32, 4x1 gal, 5 gal, 55 gal #C0542
HERBAL DEODORIZER
Dilution: 1:8
Packaging:
4x1 gal, 5 gal, 55 gal #C06332
LEMON DEODORIZER
Dilution: 1:8
Packaging:
4x1 gal, 5 gal, 55 gal #L2106
MINT DEODORIZER
Dilution: 1:8
Packaging:
4x1 gal, 5 gal, 55 gal #M2324
PINE DEODORIZER
Dilution: 1:8
Packaging:
4x1 gal, 5 gal, 55 gal #P2671
Odor Neutralizers
ELIMINATOR
Pleasantly scented deodorizer
Dilution: 0.5 - 2oz./2 gal. of cleaningsolution.
Pleasantly scented deodorizer that cleansand deodorizes in one easy step.
Eliminates odors caused from animals, pets, garbage, mildew, cooking, smoke, food decay, cigarettes, sickness, incontinence, etc.
Use in bathrooms, kitchens, restaurants, hotels, schools, hospitals, offices, vehicles, etc. on floors, walls, tubs, tiles, sinks, carpets, upholstery, counters, waste receptacles, etc.
Packaging:
12x32 oz, 4x1 gal, #L2107