Proportioners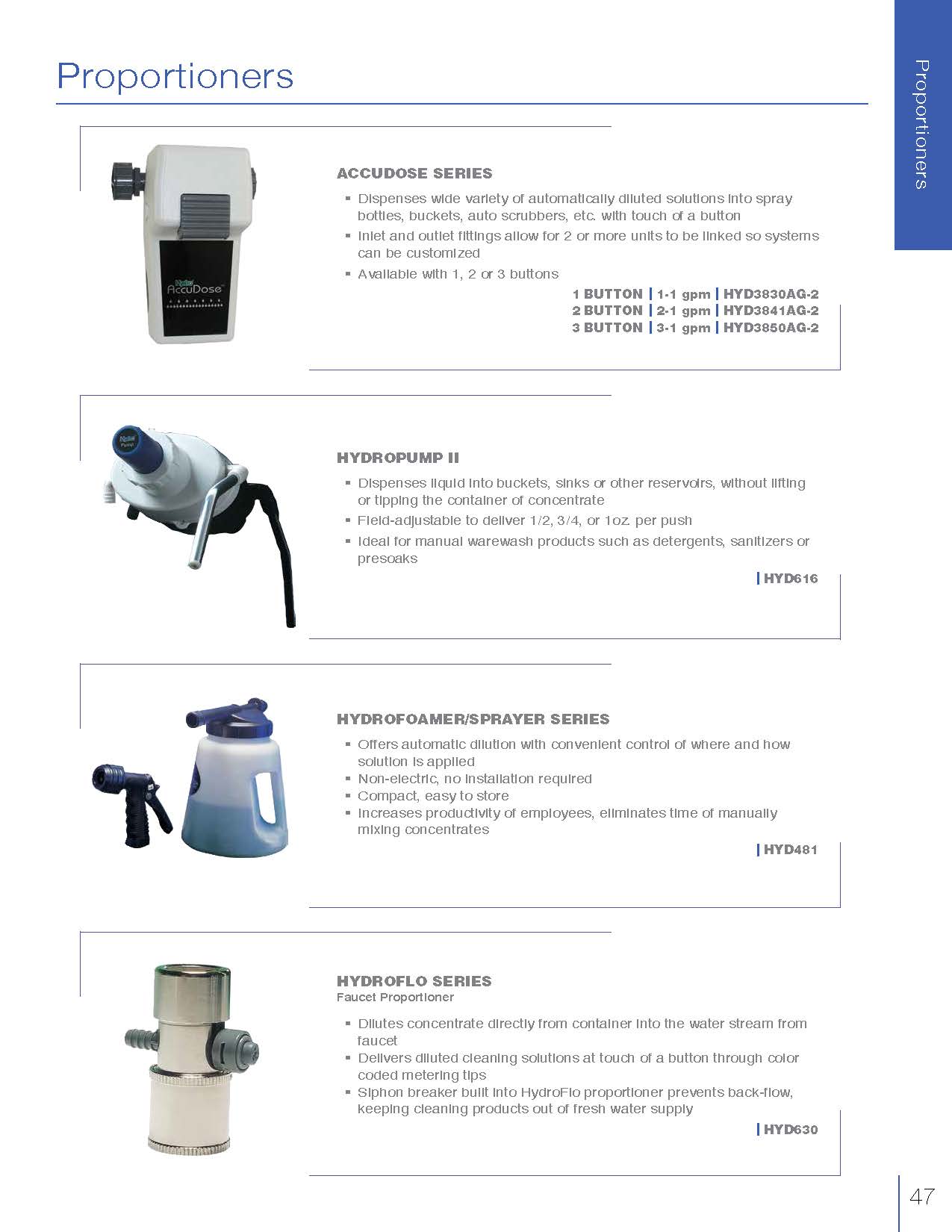 Product Listing
View All SDS View All Data Sheets

---
BAG-IN-A-BOX 800ML DISPENSER
Dispenses both Bag-In-A-Box Pink Lotion and Bag-In-A-Box Antiseptic hand soaps.
Item #:
TOUCH-FREE DISPENSER
Item #:
FOAM SOAP DISPENSER
Available in black & white finish.
Item #s:
DAA501501 - Black
DAA501401 - White
TOUCH-FREE FOAM DISPENSER
Available in black & white finish.
Item #s:
DTFFB - Black
DTFFW - White
ACCUDOSE SERIES
Dispenses wide variety of automatically diluted solutions into spray bottles, buckets, auto scrubbers, etc. with the touch of a button.
Inlet and outlet fittings allow for linkability so systems can be customized.
Available with 1, 2 or 3 buttons.
Item #s:
1 button HYD3830AG-2
2 button HYD3850AG-2
3 button HYD2830AG-2
HYDROPUMP II
Dispenses liquid into buckets, sinks or other reservoirs, without lifting or tipping the container of concentrate.
Facilitates dilution by delivering 30cc (1 ounce) of concentrate each time it's pushed, with high repeatability (accuracy).
Ideal for manual warewash products such as detergents, sanitizers or presoaks.
Item #:
HYDROFLO SERIES FAUCET PROPORTIONER
Dilutes concentrate directly from container into the water stream from faucet.
Delivers diluted cleaning solutions at touch of a button through color-coded metering tips.
Siphon breaker built into HydroFlo proportioner prevents back-flo, keeping cleaning products out of fresh water supply.
Item #:
HYDROFOAMER/SPRAYER SERIES
Offers automatic dilution with convenient control of where and how solution is applied.
Non-electric, no installation required.
Compact, easy to store.
Increases productivity of employees, eliminates time of manually mixing concentrates.
Item #:
SOFT TOUCH
For hand soap & skin care products.
Item #:
ONE GALLON HAND SOAP DISPENSER PUMP
Fits flap top or round gallons.
Controls product usage, economical to use.
Item #:
WATERLESS PLUNGER DISPENSER
Dispenser Plunger for a 4.5-pound container.
Item #:
BLEND RITE™ DISPENSERS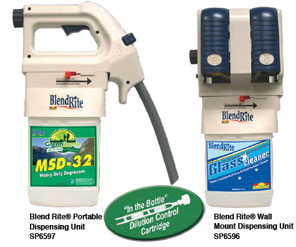 Wall mount takes up minimal space and requires only a garden hose hook up. Portable unit is light weight and requires no installation.
High and low flow rates in each unit. Fill quarts or mop buckets on the go.
Easy-to-handle spill-proof 64 oz. bottles.
Proprietary bottle lockout. No one can use their product in your dispenser.
All Blend Rite™ products come ready to dispense. Simply remove the standard cap and slide the bottle into the dispenser.
No product residual when switching from one product to the next.
Accurate dilution ratios of all products, no tips or adjustments to make.