Professional Cordless Electrostatic Handheld Sprayer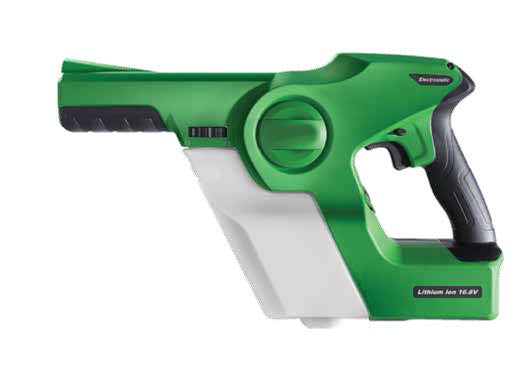 Ideal for disinfecting, sanitizing, odor removal, decontamination, pesticides/fertilizing, and more!
Saves Time
Saves Money
Provides better coverage
Download PDF Product Specs VIDEOS
Features
Better visabilityL LED Head Light
Versatility: Adjustable 3-in-1 Nozzle
Double Charge Technology for maximum coverage
1 Liter easy fill tank
Ergonomic handle with lock for comfort and safety
Long lasting battery VP20 (4 hr. run time)
Heavy duty kit box
Product Specifications
Model #
VP200ESK
Weight (No Chemical)
3.8 lbs.
Power
Cordless
Weight (Full)
5.9 lbs.
Tank Size
33.8 ounces / 1L
Optimum Spray Range
2-3 ft.
| | Nozzle Setting 1 | Nozzle Setting 2 | Nozzle Setting 3 |
| --- | --- | --- | --- |
| Nozzle Shape | Full Cone | Full Cone | 10° Fan |
| Particle | 40 microns | 80 microns | 110 microns |
| Flow Rate | 3.1 ounce/min | 3.8 ounce/min | 10.5 ounce/min |
| Run time per tank | 11.3 min | 9.3 min | 3.33 min |
| Coverage per tank* | 2,800 sq ft | 2,550 sq ft | 1,700 sq ft |
| Tanks per charge | 21.2 | 25.8 | 72.1 |
* Per internal testing determined by flow rate and particle size
Videos