Specialty Products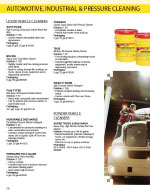 Product ListingView All SDS
---
ASPHALT RELEASE
Siliconized anti-stick asphalt release
Dilution: 1:6
Specially formulated for use as a lubricant on asphalt slides and asphalt truck beds.
Replaces traditional solvent lubricants including kerosene.
Packaging:
5 gal, 55 gal #A0190
BLACK BACK
Silicone tire and trim dressing
Dilution: As-is.
Solvent-based.
Beautifies and conditions the rubber and vinyl trim on vehicle exteriors and restores that "new look" to tires, mouldings, etc.
Packaging:
4x1 gal, 5 gal, 55 gal #B0311
DRILL FOAM
Detergent-based auger lubricant
Dilution: Varies with equipment.
High foaming.
Facilitates the flotation of dirt to surface and extends the wear of drill bits.
Widely used by well drillers.
Packaging:
5 gal, 55 gal #D0865
GEL SOLV
Foaming, solvent tar remover
Dilution: 1:3
Contains blend of organic solvents and emulsifiers.
Formulated with special wetting agents so it can be diluted with water.
Effectively removes road asphalt, tar and residues and creates a thick foam that adheres to the surface when sprayed on.
Packaging:
5 gal, 55 gal #G1320
LEATHER AND VINYL DRESSING
Water-based silicone dressing
Dilution: As-is.
Leaves a glossy or satin shine.
Effective on plastic, vinyl and rubber surfaces (e.g., tires).
Packaging:
4x1 gal, 5 gal, 55 gal #V41004
SLIDE
Detergent-based lubricant
Dilution: 1:100
Formulated to produce a thick, rich foam that when applied to truck's bed, inhibits asphalt from sticking to the bed.
Packaging:
5 gal, 55 gal #S3335
SUPER X-100
Powdered concrete floor cleaner
Dilution: As-is.
Effectively cleans all concrete floors.
Not recommended for resilient floors such as linoleum and asphalt or wood floor.
Packaging:
50 lb carton, 100 lb drum, 420 lb drum #S3620
WINDSHIELD WASHER ANTIFREEZE CONCENTRATE
Solvent-based windshield wash antifreeze
Dilution: 1:2 - 1:20 depending on temperature
Non-streaking.
Provides excellent cleaning in sub-freezing temperatures.
Packaging:
5 gal, 55 gal #W4240