Touch-Free Lotion Soaps & Sanitizers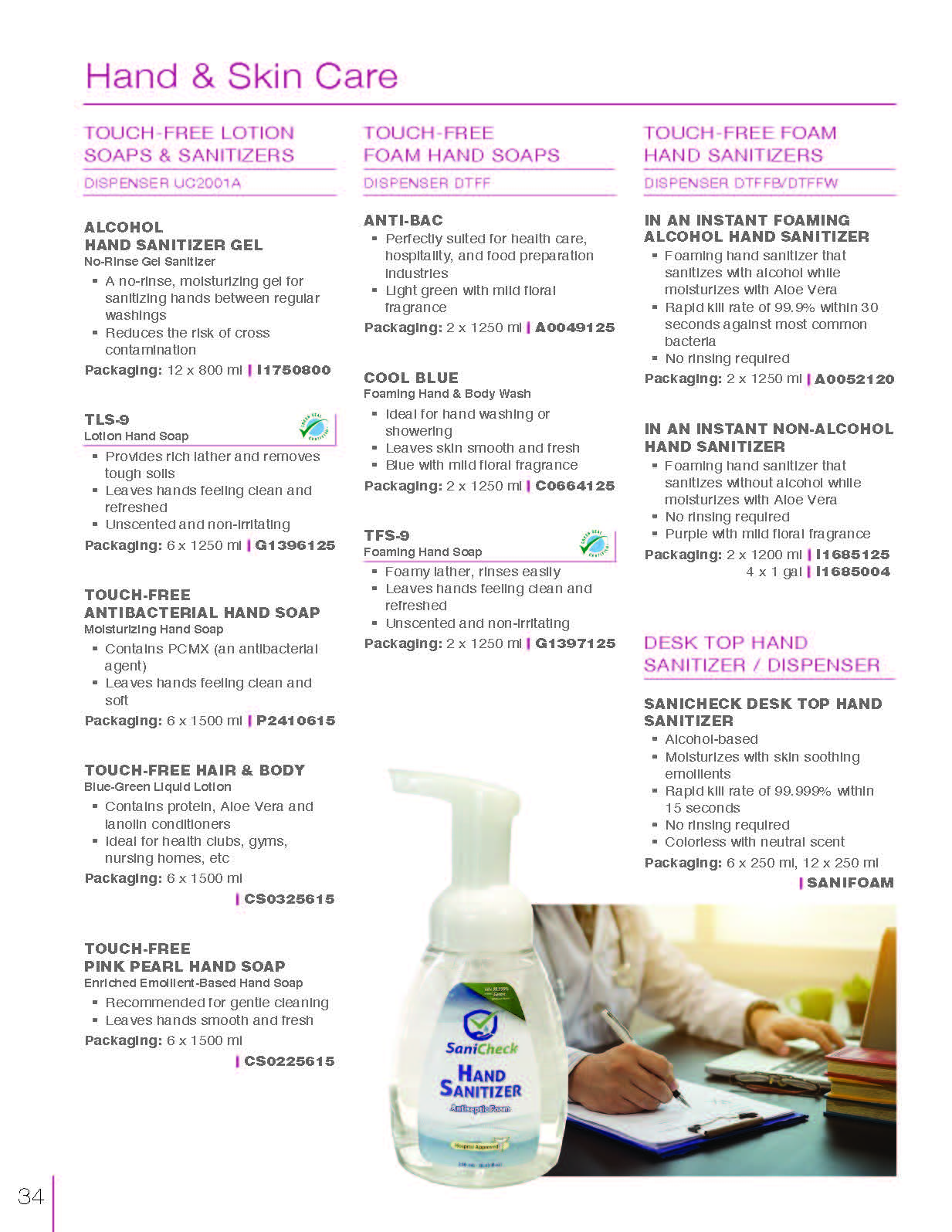 ---
ALCOHOL HAND SANITIZER GEL
No-Rinse Gel Sanitizer
A no-rinse, moisturizing gel for sanitizing hands between regular washings.
No rinsing required.
Gentle on hands.
Reduces the risk of cross contamination.
Kills germs without water.
Packaging:
12x800 ml/case #I1750800
TOUCH-FREE PINK PEARL HAND SOAP
Enriched emollient base
Recommended for gentle cleaning.
Leaves hands smooth and fresh.
Packaging:
6x1500 ml/case #CS0225615
TOUCH-FREE ANTIBACTERIAL HAND SOAP
Moisturizing Hand Soap
Contains PCMX for a wide-range kill of bacteria.
Leaves hands feeling clean and soft.
Packaging:
6x1500 ml/case #P2410615
TOUCH-FREE HAIR AND BODY
Blue-Green Liquid Lotion
Contains protein, Aloe Vera and lanolin conditioners.
Ideal for health clubs, gyms, nursing homes, etc.
Packaging:
6x1500 ml/case #CS0325615
TLS-9
Lotion Hand Soap
Provides rich lather and removes tough soils.
Formulated for heavy-duty cleansing.
Leaves hands feeling clean and refreshed.
Rinses freely.
Unscented and non-irritating.
Packaging:
6x1250 ml/case, # G1396
---
DISCLAIMER: EPA/DfE recognition does not constitute endorsement of these products. The Design for the Environment logo signifies that the formulas for these products, as Simoniz USA has represented them to the EPA, contains ingredients with more positive health and environmental characteristics than conventional cleaners. EPA/DfE relies solely on Simoniz USA, its integrity and good faith, for information on the composition, ingredients, and attributes of these products. EPA/DfE has not independently identified, i.e., via chemical analysis, the ingredients in the product formulas, nor evaluated any of Simoniz USA's non-ingredient claims. EPA/DfE expresses its judgment and professional opinion only as to the environmental and human health characteristics of the products, based on currently available information and scientific understanding.